Cashmere is one of the most coveted materials during the winter months, and with good reason: It's the soft and cozy remedy to freezing cold days.
But shopping for cashmere can be a serious pain. Not only is it so damn expensive, it's hard, at first glance, to spot quality cashmere goods. Don't even get us started on pilling, which is one of the worst phenomena like ever.
Since we can't quite grasp the art of cashmere shopping, we got the lowdown on the luxurious fabric from two experts who've got us covered from care to wear.
First, the basics.
What exactly is cashmere?
The soft and luxurious material hails from none other than the goat species. However, Victoria Stapleton, the founder and creative director of Brora Cashmere, tells us that these aren't just any old goats. She explains, "Cashmere raw material comes from the fleece of goats," and Stapleton adds that the goats usually live in "the high and dry plateau surrounding the Gobi Desert of Mongolia and China where the temperatures reach -40 degrees celsius (-40 degrees fahrenheit) in winter."
The below freezing weather is important, because it's what helps the "goats develop a thick downy fleece," Stapleton says, which is harvested for spring — but that's not all.Jerry Pozniak, managing director of Jeeves New York, explains that cashmere is actually the "fine under hair" of the fleece, which acts as insulation for the goats.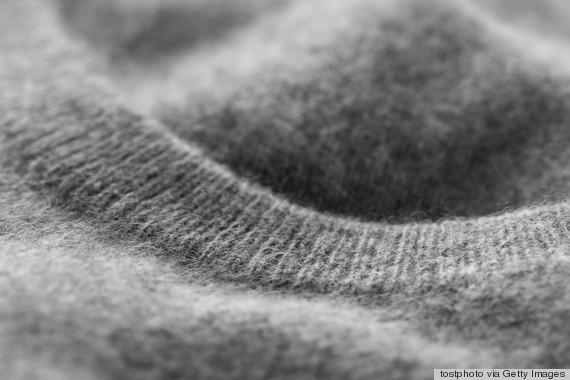 Why is it expensive?
If you're anything like us, you wander the aisles and get bug-eyes after seeing cashmere price tags. Stapleton tells us plain and simple that it's all in the fiber. Her company spends about $100 per 2 pounds of cashmere, which Stapleton says only yields about three cardigans. "Quality cashmere is an investment piece, which with care, will last you for years and it actually becomes softer with age," Stapleton says.
That said, there's a reason some cashmere is more expensive than others. "The longer fibers taken from the neck and underbelly are more expensive and are woven into higher quality cashmere items," Pozniak says, meaning that the money signs start showing up from the get-go.
How to spot quality goods:
Shopping for quality clothing is arguably one of the hardest things to do, ever. But, there are a few ways to point out what you're getting for your buck when it comes to cashmere. First thing's first: caress the material to see how dense or soft it is.
The texture you feel in-store is determined by the milling process, or the way in which the fabric is treated while at a mill. Stapleton mentions that if cashmere is over-milled "it will feel really soft on the shelf, but within minutes will simply be a heap of balls." And on the opposite end of the spectrum? "If you under-mill, it almost doesn't feel like cashmere," she says.
While rubbing your face, er, hands against the potential buy, give it a little pull. "Stretch the garment a bit, it should spring right back," Pozniak says, adding that you'll notice that the better the quality, the more tightly woven it will be.
The big difference between luxury cashmere and sweaters under $100:
"The number of plies," Pozniak says. "Good cashmere sweaters should be at least two-ply, sometimes more," he adds. So check out those tags, people.
Both Pozniak and Stapleton give high price points that indicate better cashmere, mostly as far as sweaters are concerned. While Pozniak says that $200 is on the low side, Stapleton points out that anything over $400 is fair game. Well, if you call anything that expensive "fair."
About pilling:
"Pilling is when the short fibers twist around themselves, caused by friction in wear areas, such as underarms or where a bag rubs," Pozniak says. Pills can look like snags or bits of fuzz. Surprisingly, it doesn't matter how expensive your cashmere is, because pills don't discriminate. Pilling "is an inevitable consequence of the careful processing of this fine fiber," says Stapleton. Don't worry, there are ways to remedy the annoying situation. Tools such as sweater combs and de-pilling stones remove the pesky pills, which will make your cashmere garments nice and soft.
How to care for cashmere and keep it long-lasting:
With a little TLC, your cashmere will keep in good condition for a while, maybe even decades, Pozniak implies. Here's the quick and dirty tips on how to give that material the respect it deserves:
When washing, use the gentle cycle.
If you have stains, seek professional help.
Finally, beware of moths! Both Pozniak and Stapleton recommend storing cleancashmere in air-tight bags, along with cedar balls.