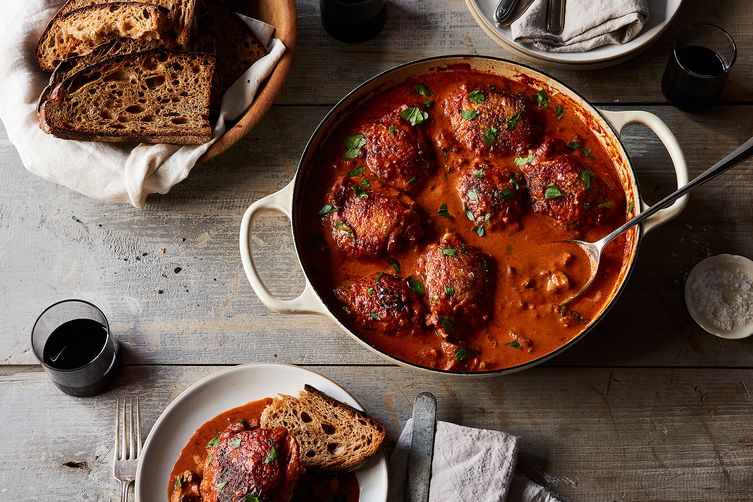 Serves 4
Ingredients:
8 

chicken thighs

1 

tablespoon olive oil

1 

tablespoon butter

4 

cups chestnut or button mushrooms

3 

shallots

2 

cloves of garlic

1 

teaspoon tomato puree

1 

cup chicken or veal stock

1 

cup dry white wine

1 

14-ounce can diced tomatoes

2 

bay leaves

2 

thyme sprigs

2 

tablespoons flat leaf parsley

1/2 

cup cream
Preparation:
Season the chicken thighs well with salt. Heat the olive oil and butter in a large pot (a Dutch oven is perfect for this) and brown the chicken, leaving it to sizzle for 3-4 minutes on each side. Meanwhile, clean and quarter the mushrooms, and dice the shallots.
Add the shallots and mushrooms and saute until they start to take on some color. Add the minced garlic and the tomato puree to cook through (just a minute or so).
Pour in the wine, scraping down the pan, then add the stock and diced tomatoes. Add the bay leaves and thyme. Season the dish with a couple of pinches of salt and a good grind of pepper, and let simmer for 10 minutes with the lid on, and a further 30 with the lid off, by which time the chicken should be tender and the sauce reduced to a thick gravy.
To finish the dish, stir in the cream and let it simmer for a minute to bring the flavors together. Serve with a sprinkle of parsley (and maybe some mashed potatoes or bread, to soak up all the juices).