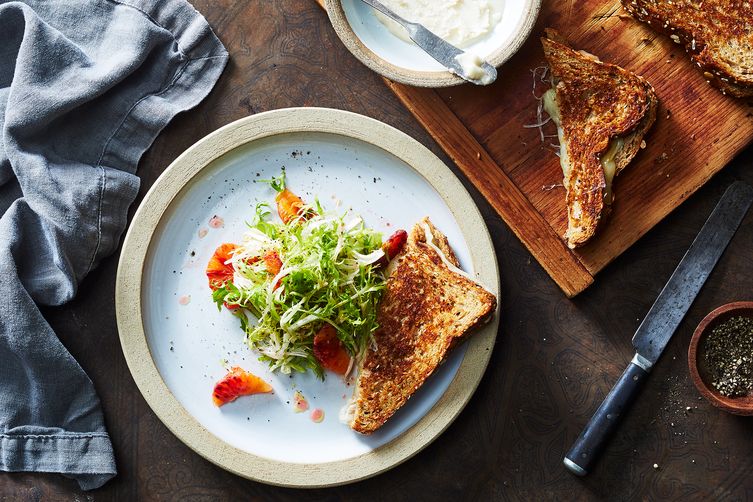 Makes 2 sandwiches
Ingredients:
2 

cups dried shredded, unsweetened, coconut

Kosher salt, to taste

4 

slices seedy, whole grain bread

4 

slices gruyere cheese

4 

slices fontina cheese

3 

blood oranges, 1 juiced and 2 segmented

1 

tablespoon lemon juice

2 

teaspoons honey

1 

tablespoon extra-virgin olive oil

2 

small heads frisée

Kosher salt and coarse ground black pepper
Preparation:
In a food processor, put the dried coconut and blend for 3 minutes until the coconut breaks down into clumps. Scrape down the sides of the food processor. Continue to blend for another 5 minutes and scrape down the sides of the food processor. The coconut should have a sandy consistency and be somewhat paste-like. Continue processing for another three to four 3-4 minutes. Scrape sides of the food processor each time.
After 12-15 minutes have elapsed, the coconut starts to coagulate and it resembles a buttery paste. At this point, you should have scrapped the sides of the food processor 6-7 times, to ensure that the coconut meat is making contact with the blades.
At the 20-minute mark, the coconut now resembles the consistency of thick peanut butter. It is thick and viscous. Stir in the salt, and set aside.
Prepare the salad: Segment the blood oranges, firstly by removing the skin and pith and, with a paring knife, cutting the flesh out from along the veins of the fruit. Place the segments on a small plate. In a medium- sized bowl, juice the remaining blood orange by squeezing with your hand. To the blood orange juice, whisk in the lemon juice, honey, and slowly stream in the olive oil. Season to taste with kosher salt and fresh ground black pepper. Wash and trim the frisée into bite-sized pieces and toss in the blood orange vinaigrette. Set aside while you prepare the grilled cheese.
Butter both sides of the bread with coconut butter—but place more butter on the insides of the bread than the sides in contact with the pan, to prevent scorching. Place the cheeses on the slice of bread and close with another slice the of coconut-buttered bread.
Plate the salad, and top with orange segments. Place grilled cheese near salad, and enjoy.