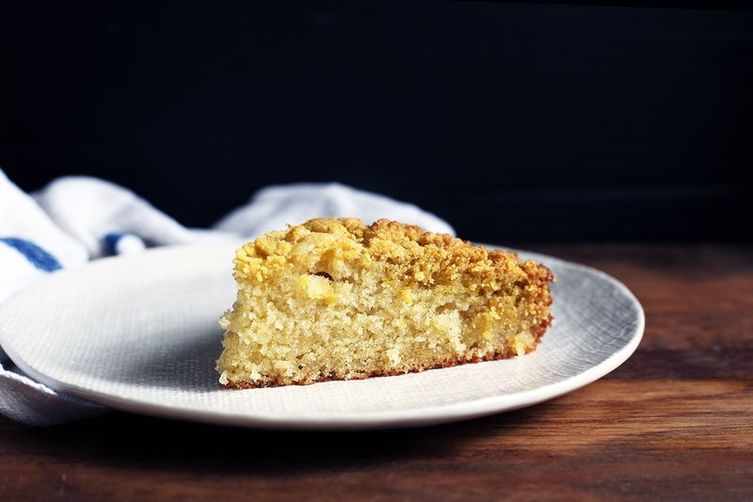 Makes one 9″ cake
Ingredients:
1 

cup (226 grams) unsalted butter, at room temperature

1/2 

cup sugar

1 

tablespoon vanilla extract

1 

egg

1 

egg yolk

1 1/4 

cups (150 grams) cake flour

1/2 

teaspoon baking powder

1/2 

teaspoon baking soda

1/2 

teaspoon salt

1/2 

cup crème fraîche (or full-fat Greek yogurt)

3/4 

cup freeze-dried corn

1/2 

cup almond flour

1 

tablespoon cake flour

6 

tablespoons melted butter

1/4 

teaspoon salt
Preparation:
Preheat your oven to oven to 350°F. Grease a 9″ round cake pan and line it with parchment.
Cream together butter and sugar until light and fluffy (at least 3 minutes in a stand mixer).
Add the vanilla, egg, and egg yolk, and beat until well-combined.
Add the flour, baking powder, baking soda, salt, and creme fraiche and mix until the batter just comes together.
Pour the batter into the prepared pan.
In a food processor, pulse together all the streusel ingredients until crumbly but not too fine. Spread the streusel evenly over the cake batter.
Bake for 20-30 minutes: Remove from the oven once a tester inserted into the center comes out clean.