Dutch babies happen to be one of my favorite breakfast dishes. If you've ever made a traditional Dutch baby, you know that the texture is the best part! It is essentially a large souffle-like pancake made in the oven. It has a crisp exterior and a custard, pancake-like interior.
It also happens to be one of the easiest breakfasts to throw together. The batter is made in a blender, poured into a pre-heated skillet, and baked in the oven. No mixing bowls and minimal clean up. Despite how much I love Dutch babies, I don't make them all that often simply because they've never offered much sticking power. I could eat a Dutch baby and get hungry 30 minutes later.
But this gluten free Dutch baby is different. It just happens to be made with Bob's Red Mill gluten old-fashioned free rolled oats. There is not a speck of wheat or all-purpose flour in this batter, making this Dutch baby not only gluten free, but also 100% whole grain! This makes it not only healthier, but more hearty and filling too.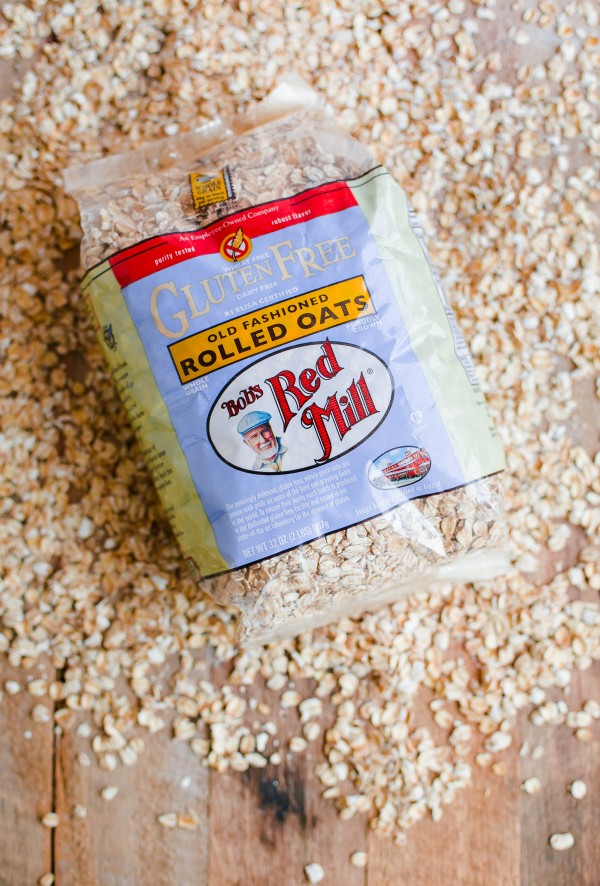 Many of you are probably familiar with old-fashioned rolled oats. I use them in everything from traditional oatmeal to cookies and everything in between. Oats are naturally gluten-free. So, you might be wondering why you see both gluten-free rolled oats and regular rolled oats at the supermarket. Aren't they the same thing? Not exactly.
Many people that follow gluten free diets can't tolerate regular rolled oats. Why?
Well, the majority of oats are grown in close proximity or within fields that are also used for other grains, such as wheat, barley, and rye [all of which do contain gluten]. Throughout the farming process, there is also cross contamination with transportation and grain separation. This article describes the process in even greater detail. Fascinating, right?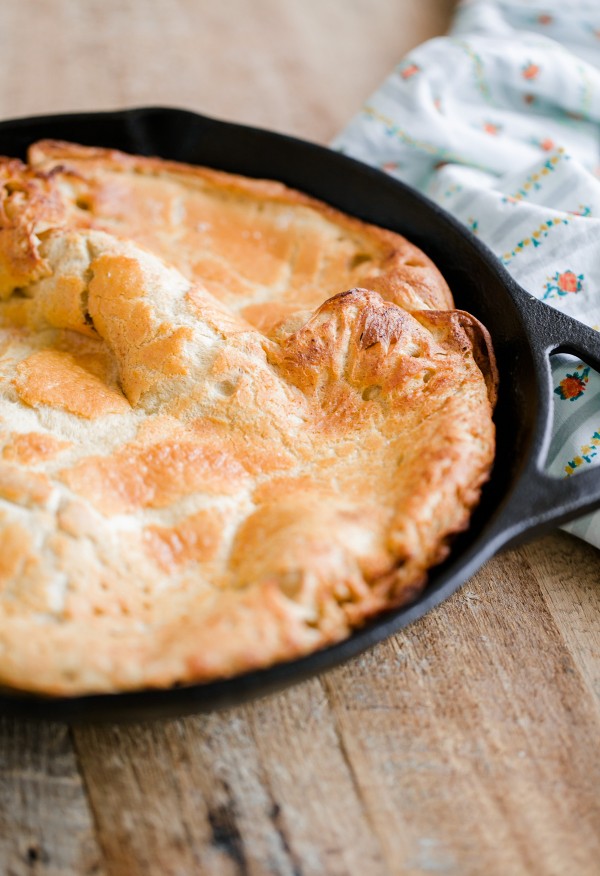 Bob's Red Mill uses the highest standards of production to ensure that their gluten free old fashioned rolled oats are indeed gluten free. They work directly with all of their grain suppliers, use specialized equipment, and test every batch of oats that go into each bag.
Even though I don't personally follow a gluten-free diet, I prefer to buy gluten free oats, because it allows me the flexibility of serving friends and family with dietary restrictions.
Case in point: today's gluten free Dutch baby. If I didn't tell you, you would never know or guess that this pancake is 100% whole grain. It is light and airy, and indistinguishable from a traditional Dutch baby in texture.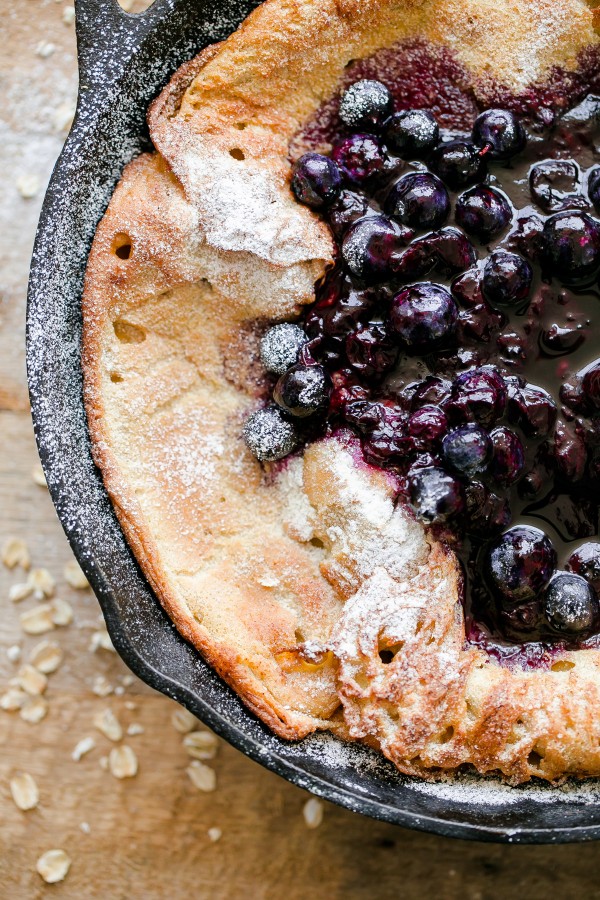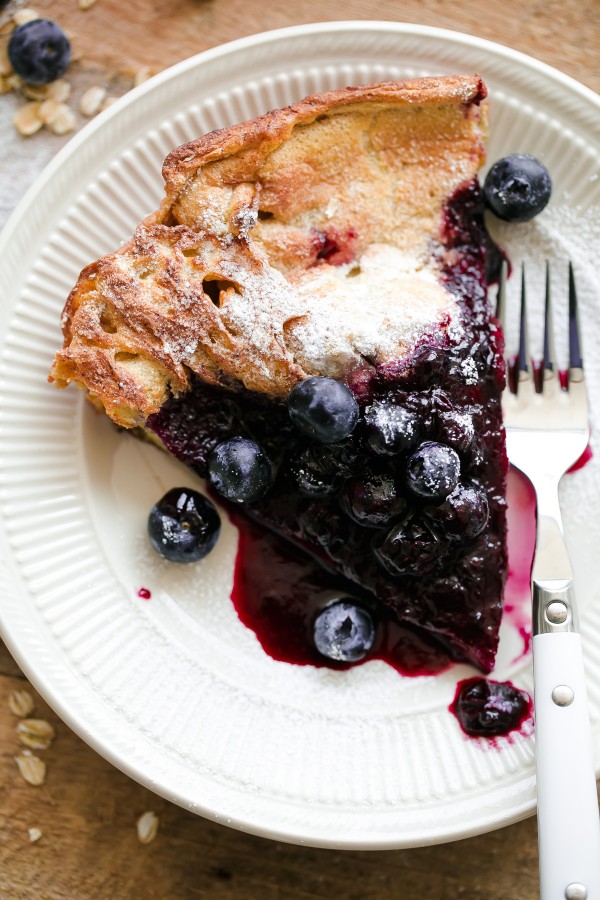 The icing on the cake (or, in this case, the syrup on the Dutch baby) is the homemade blueberry maple syrup! It couldn't be easier to throw together, contains just two ingredients, and is my new go-to summer topping for waffles and pancakes.
INGREDIENTS:
Blueberry Maple Syrup
1 dry pint fresh blueberries
1/4 cup pure dark maple syrup
Gluten Free Dutch Baby
3 large eggs + 1 large egg white
2/3 cup whole milk
1/4 teaspoon baking powder
1/2 teaspoon pure vanilla extract
1/2 teaspoon ground cardamom
1/8 teaspoon kosher salt
4 tablespoons unsalted butter, cut into cubes
confectioner's sugar, for dusting (optional)
DIRECTIONS:
Prepare the Blueberry Maple Syrup: Combine the blueberries and maple syrup in a small saucepan. Bring over medium heat and continue to cook, stirring occasionally, until the blueberries just begin to burst and the syrup has thickened, about 7 to 10 minutes. Keep warm as you prepare the Dutch baby.
Prepare the Dutch Baby: As the syrup is thickening, place a 10-inch cast iron skillet on the center rack of the oven, and preheat your oven to 450 degrees Fahrenheit.
In a high-powered blender, combine the eggs and egg white. Blend over high speed until light and frothy, about 2 to 3 minutes. Add the oats, milk, baking powder, vanilla extract, cardamom, and salt. Blend over high speed for 1 to 2 minutes, or until very smooth and well combined. The batter will be thin.
Using oven mitts, carefully remove the hot cast iron skillet from the oven. Place the cubed butter in the pan, it will immediately bubble and begin to melt. Place the skillet with the butter back into the oven until the butter just begins to toast (it will smell nutty and fragrant) for 45 seconds to 1 minute, watching carefully the whole time.
Remove the skillet from the oven, swirl to coat the pan evenly. Pour the Dutch baby batter into the center of the skillet and immediately place back into the oven. Bake for 12 to 15 minutes, or until the Dutch baby has risen substantially and is golden brown. Dust lightly with confectioner's sugar. Serve immediately in large wedges with warm blueberry syrup.