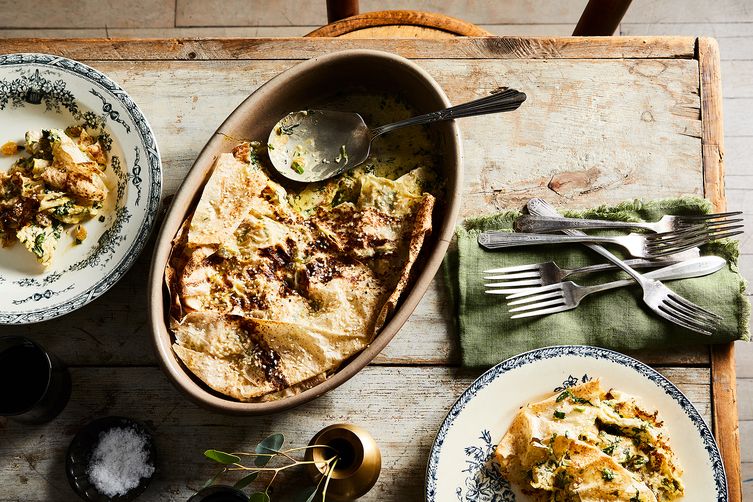 Serves 3
Ingredients:
6 

tablespoons (3. oz/100 g) Homemade Matsoni (page 29) or plain yogur

2 

garlic cloves, grated

pinch of saffron threads (optional)

a pinch of cayenne pepper

1 

tablespoon dried barberries or golden raisins

1 

cup (7 oz/200 g) poached chicken meat, torn into chunks

1 

tablespoon chopped green onions

1 

tablespoon chopped cilantro

1 

tablespoon chopped dill

1 

tablespoon chopped tarragon

sea salt flakes

1/4 

cup (2 oz/50 g) unsalted butter, melted

1 

piece Armenian or Persian lavash (or any other large, thin flatbread)

1 

tablespoon sunflower seeds (or sesame, pumpkin, or linseed)
Preparation:
To make a filling, mix the yogurt, garlic, saffron, cayenne, and barberries together, then add the chicken, green onions, and herbs. Season well with salt and set aside.
Preheat the oven to 350°F (180°C). Grease a shallow 6 x 8–inch (15 x 20–cm) baking dish with some of the melted butter.
Place one layer of lavash in the dish (tear it to fit), brush with melted butter, then spread the filling over. Cover with another layer of lavash. Brush with melted butter and sprinkle with the seeds.
Bake until the pie is heated through, the top is golden, and the seeds are toasted, 15 minutes.
Tip In addition to being a perfect way in which to use up leftover cooked chicken, this is also a great way to use up stale flatbreads; because you cover them with butter and the filling is so moist, the flatbreads revive beautifully in the oven.