With its mountain backdrop and urban beaches, Vancouver has the rightly earned reputation of being one of the most beautiful cities in the world. Downtown Vancouver is superbly situated on a peninsula in the Strait of Georgia, bounded to the south by the delta of the Fraser River and to the north by a deep fiord reaching far inland (Burrard Inlet). Also to the north, gleam the often snow-covered ranges of the Coast Mountains.
With its extensive parks and relatively equable climate keeping temperatures mild throughout the year, Vancouver is a paradise for leisure activities. But it also boasts a busy cultural life, and the modern Downtown is easily explored on foot. The scenic city was showcased to the world when it hosted the 2010 Winter Olympics, in conjunction with nearby Whistler.
1. Stanley Park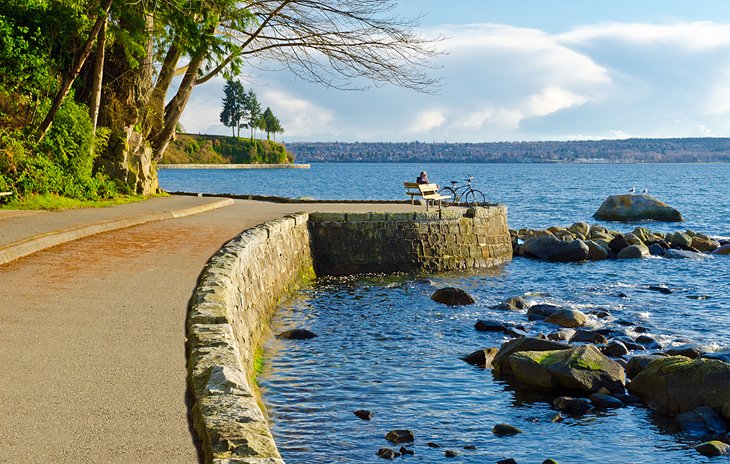 Stanley Park is a lush peninsula park of huge trees adjacent to Downtown Vancouver. A paved seawall path encircles the green space, and most visitors take the time to explore on foot or by bicycle. Inland, the park offers many things to do, and visitors can spend a full day exploring attractions ranging from the totem poles at Brockton Pointto the west coast sea life at the Vancouver Aquarium. Spectacular views are a standard throughout the park.
2. Granville Island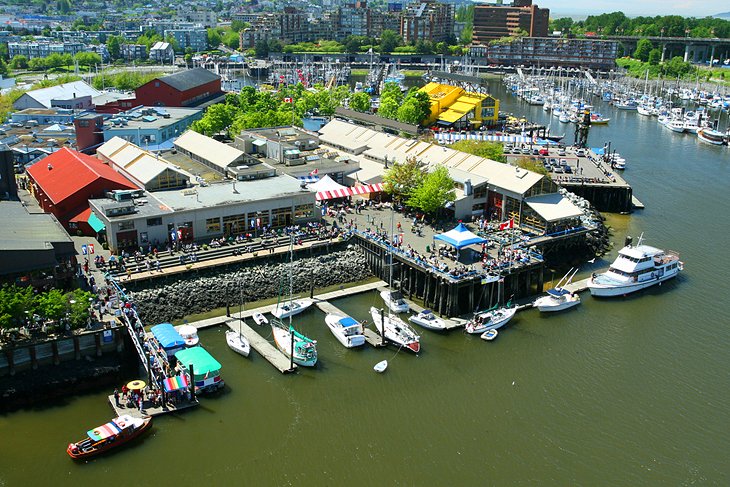 Once mainly industrial, Granville Island is now a thriving center of activity with a relaxed and distinctive atmosphere. Artists and retailers have moved into converted warehouses alongside houseboats, theaters, galleries, and restaurants. The Granville Island Public Market is one of the most popular attractions selling fruit and vegetables, seafood, and a great variety of other specialties as well as ready-to-eat items. Not truly an island, the arts hub is linked to residential areas by one road and footbridges to the south, and to the Downtown peninsula (across False Creek) by ferry.
Location: South of the Granville Street Bridge
3. Grouse Mountain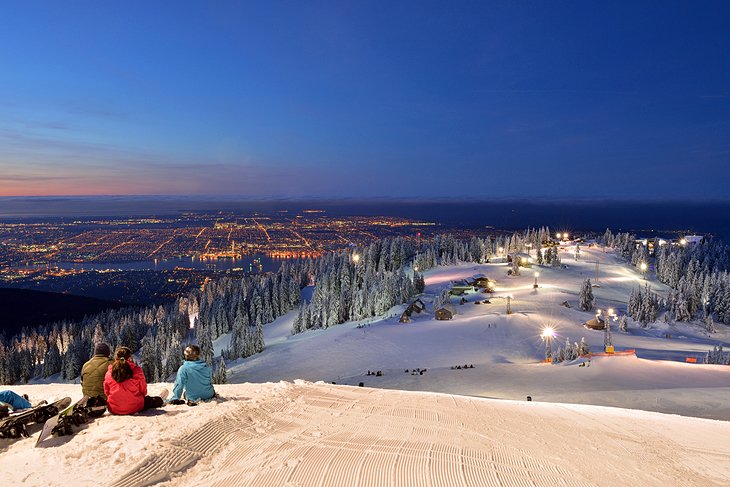 In both winter and summer, Grouse Mountain offers an unmatched panorama in clear weather. That's especially so in the evenings when the city lights are on. A gondola operates daily running from street level to the summit, where dining, activities, and wildlife await mountaintop explorers year-round. Especially for families, Grouse Mountain is a winter wonderland offering outdoor skating, snowshoeing, skiing and snowboarding. In summer, Grouse Mountain is a hiker's paradise with trails, including the famed Grouse Grind – affectionately called Mother Nature's Stairmaster.
Hours: Daily 9am to 10pm
Admission: Adults $42, seniors $38, youth (13-18) $24, children (5-12) $14
Address: 6400 Nancy Greene Way, North Vancouver
Official site: grousemountain.com
4. Museum of Anthropology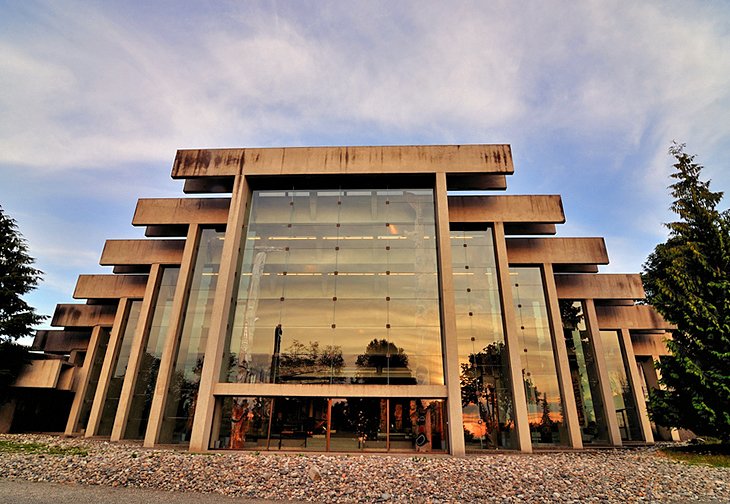 Part of the University of British Columbia, the Museum of Anthropology deals with cultures from around the world, but places particular emphasis on British Columbia First Nations. Exhibits display native art, including large totem poles in the Great Hall. Other presentations explore ethnographic and archaeological objects representing Asia, the South Pacific, the Americas, Africa, and Europe. The interesting building was originally part of a WWII-era fort, and local architect Arthur Erickson transformed the spaces into this world-class museum.
Other attractions on the university campus include the clothing-optional shoreline of Wreck Beach, the natural-history-focused Beaty Biodiversity Museum, and the rambling UBC Botanical Garden with its many interesting plantings and delicate Nitobe Japanese Garden.
Hours: Daily 10am-5pm (until 9pm on Tuesday)
Admission: Adults $16.75, students and seniors $14.50
Address: 6393 NW Marine Dr, Vancouver
Official site: moa.ubc.ca
5. Kitsilano Beach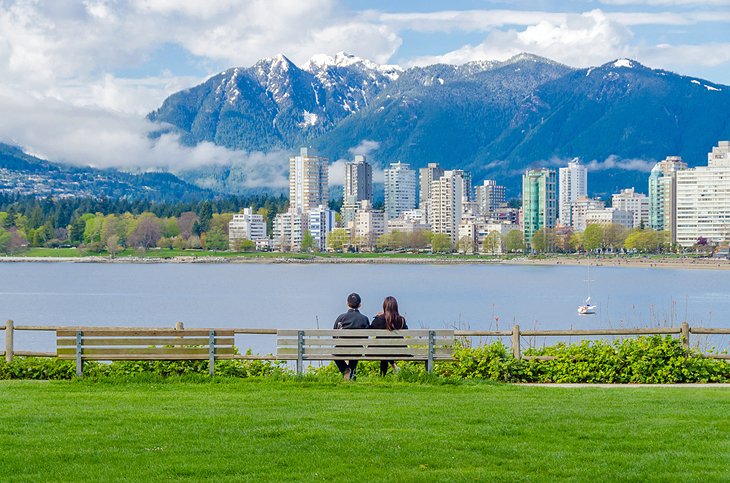 The sandy shoreline of Kitsilano Beach defines the laid-back, fun-loving Vancouver lifestyle. It's a place locals hang out with friends or take a dip in the outdoor heated seawater swimming pool, and visitors come to admire the mountain backdrop. Views from Kitsilano over the city center are wonderful. In addition to the beach and oceanfront, the area has a number of cafés and walking trails, and a vibrant shopping strip lies a few blocks south on West Fourth Avenue.
Address: 2305 Cornwall Ave, Vancouver
6. Gastown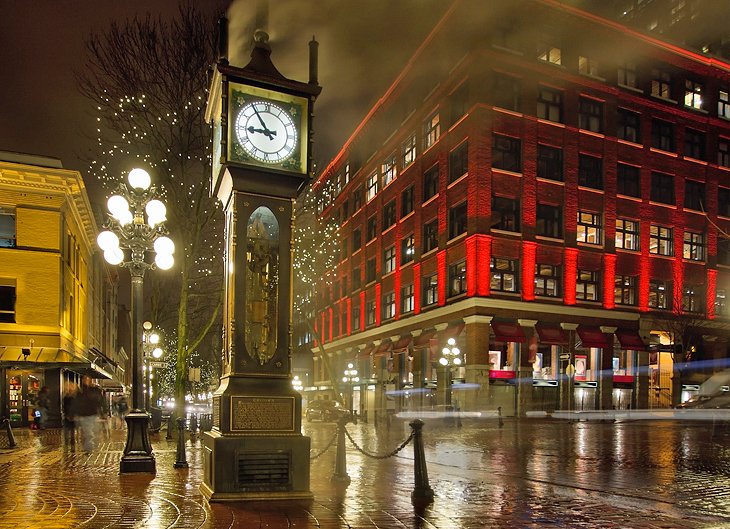 The oldest part of the city, Gastown is an area of restaurants, galleries, and shops set in carefully restored Victorian buildings. Heritage structures, cobblestone streets, and iron lampposts give the district its distinctive atmosphere. Gastown came into existence in 1867 when a man called John Deighton arrived on the scene. Deighton had a habit of launching into lengthy stories and soon acquired the nickname "Gassy Jack." As a result, the vicinity became known as "Gassy's Town" or "Gastown". A statue of the proprietor now watches over the neighborhood in Maple Tree Square. Tourists stop for photos with Gassy Jack, and also love to visit the nearby Steam Clock, which puffs steam-powered chimes every 15 minutes.
7. Canada Place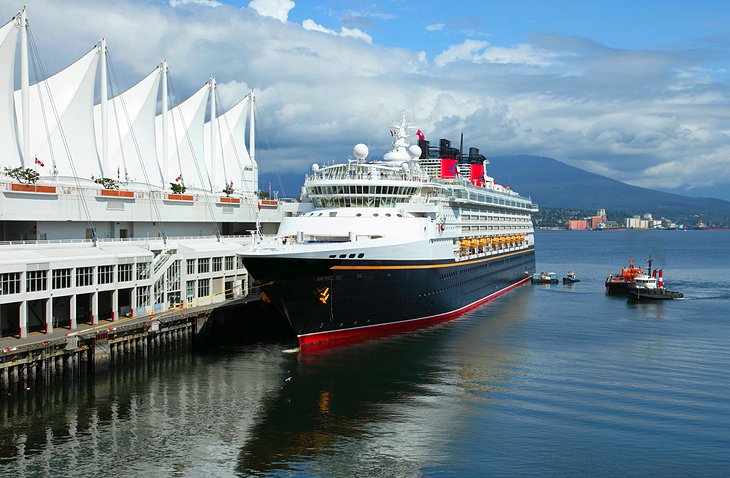 For many Vancouver visitors, Canada Place is where a trip begins. The unusual roof creates the impression of a huge sailing vessel. The architecturally remarkable structure is part cruise ship terminal, part convention center and hotel, and part hub for sightseeing bus tours. At the end of the pier, there are panoramic views and theFlyover Canada attraction – a fun flight simulator and Canadian geography lesson. Also nearby, Waterfront Station is a major transit hub with ferries departing for the public market at Lonsdale Quay in North Vancouver.
Address: 999 Canada Place, Vancouver
Official site: canadaplace.ca
8. Chinatown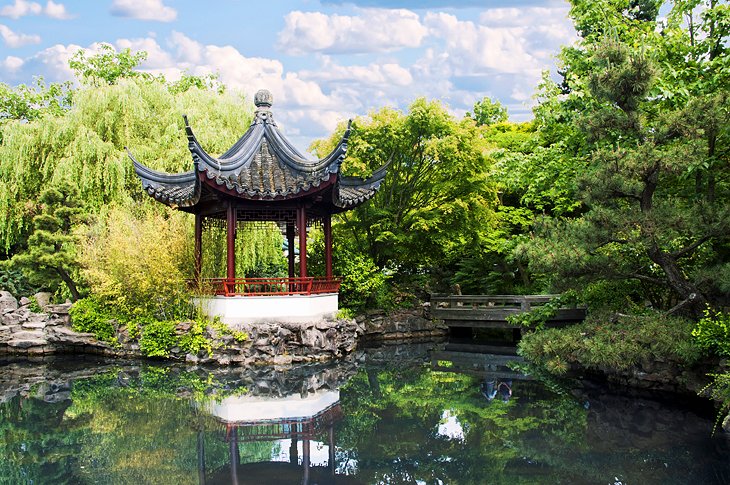 Beyond the ornate Millennium Gate marking its entrance, Vancouver's exotic and interesting Chinatown features modern buildings amid many older ones dating from Victorian times. Signs at shops and restaurants are often written in Chinese characters, particularly along East Pender, Keefer, and Main streets – the main shopping areas. Local attractions include the pretty walled Dr. Sun Yat-Sen Classical Chinese Garden, modeled after a traditional garden from the Ming Dynasty. Also worth seeing is the Sam Kee Building, which at barely two meters wide claims to be the narrowest office building in the world. Every year, Chinese New Year is celebrated with an excellent parade.
9. English Bay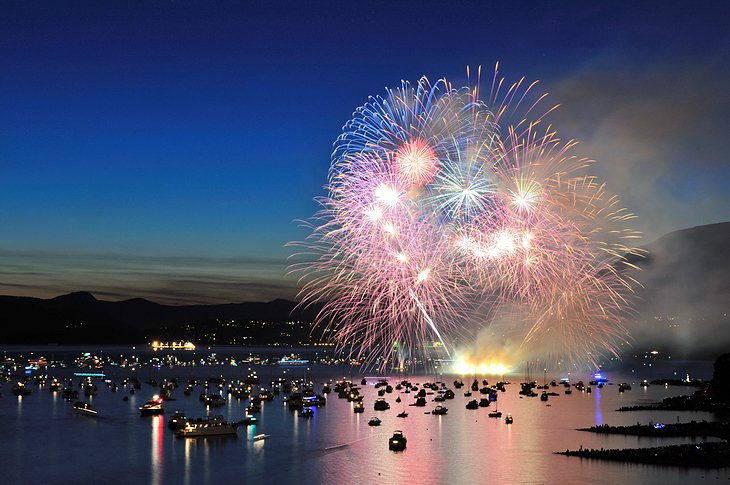 Oceanfront English Bay centers on one of the city's loveliest and busiest beaches. Part of the West End neighborhood, English Bay offers shopping and high-end restaurants, but is also a popular outdoor area where people come to walk, bike, rollerblade, or hang out with the public art installations. The biggest event comes in summer when thousands crowd the shores to watch three nights of fireworks set to music. Another popular event is the New Year's Day Polar Bear Swim, when hardy swimmers take a dip in the chilly Pacific waters.
10. Capilano Suspension Bridge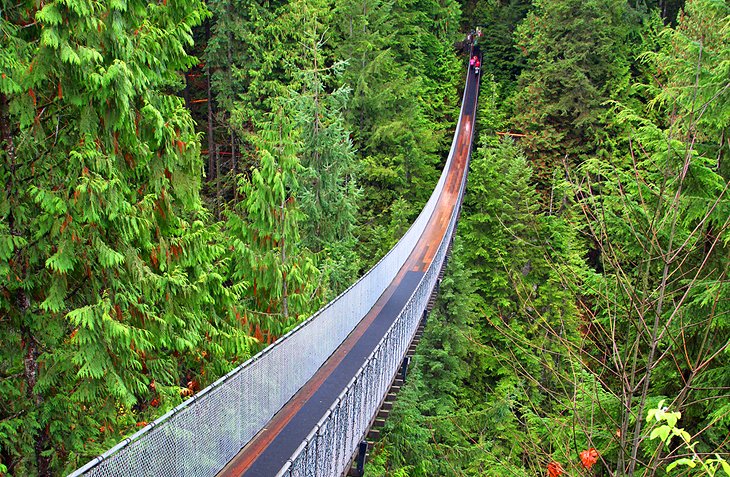 Vancouver's first tourist attraction opened in 1889 and has been thrilling visitors with its swaying bridge over a plummeting canyon ever since. The footbridge spans a 70-meter deep river canyon leading to an activity park filled with forest trails and a treetop walk through old-growth giants. There's also a collection of totem poles and a transparent suspended platform known as the Cliffwalk.
Also along Capilano Road, Capilano Salmon Hatchery is worth a visit (in fall especially) to spot flashing salmon as they try to swim upstream. The fish ladder, a series of staggered pools, allows fish to bypass Cleveland Dam. Underwater windows give visitors a look at their efforts.
If you are staying in Vancouver, the Capilano Suspension Bridge Admission, with a free shuttle to the site, is a convenient option. The shuttle runs from downtown Vancouver, and the ticket covers admission to the Capilano Suspension Bridge, including the TreeTops Adventure and the Cliffwalk.
Address: 3735 Capilano Rd, North Vancouver
Official site: capbridge.com
11. Robson Street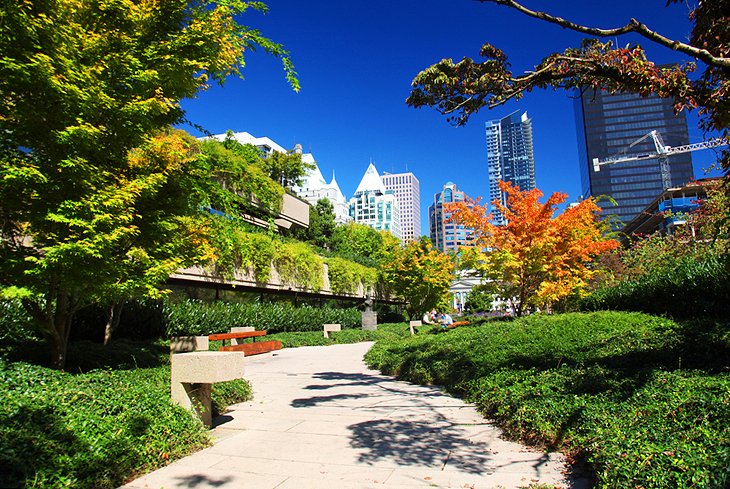 Robson Street is best known for shopping. But international brand names aside, it's also the setting for many inventive Vancouver happenings. The city's premier arts institution, the Vancouver Art Gallery is on Robson and houses an excellent collection of paintings by Emily Carr (1871-1945) as well as visiting international exhibits. The gallery faces Robson Square, an interesting public space designed by Arthur Erickson, which includes a winter ice-skating rink and law courts.
Location: Robson Street at Hornby Street
12. Museum of Vancouver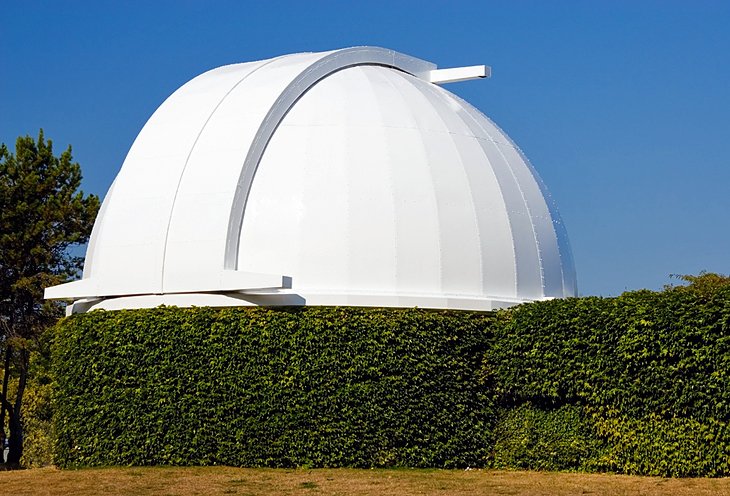 In Vanier Park near Burrard Bridge, the Museum of Vancouver is a large institution devoted to all things Vancouver. It covers the city history from the first Coast Salish communities to Japantown, Kitsilano hippie days, and urban development. Other worthwhile museums and centers are within a short walk, including the HR MacMillan Space Centre with its planetarium, an observatory, and the waterfront Maritime Museum, where splendid views capture English Bay with the North Shore mountains beyond.
Hours: Open daily 10am-5pm (until 8pm Thursday)
Admission: Adults $14, students and seniors $11, youth (5-18) $8
Address: 1100 Chestnut Street, Vancouver
Official site: museumofvancouver.ca
13. Queen Elizabeth Park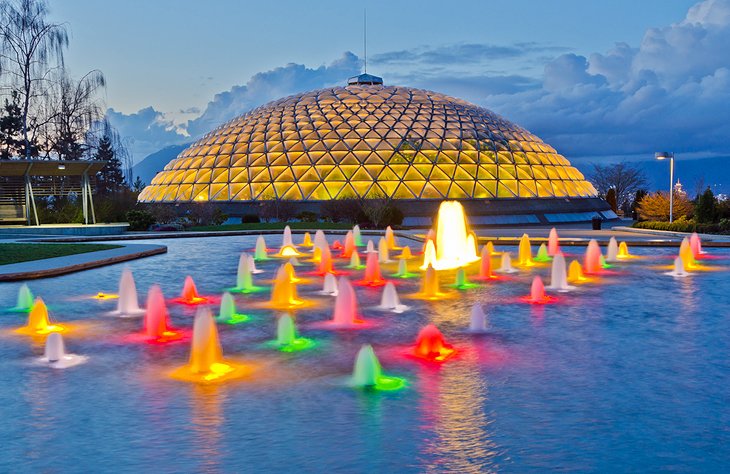 The center of Queen Elizabeth Park, Little Mountain, marks the highest point in Vancouver and its elevated position affords excellent views of the city center and the mountains to the north. Park recreational offerings include pitch-and-putt golf, tennis, disc golf, dining (at Seasons in the Park Restaurant), an extensive outdoor arboretum, and the lovely enclosed tropical environment of Bloedel Conservatory. The sunken Quarry Garden makes a lovely spot to stroll on a warm summer day. For more horticultural explorations, head a couple of blocks west to VanDusen Botanical Garden, where there is always something in bloom amid beds representing various regions and species.
Location: Cambie Street and West 33rd Ave
14. Science World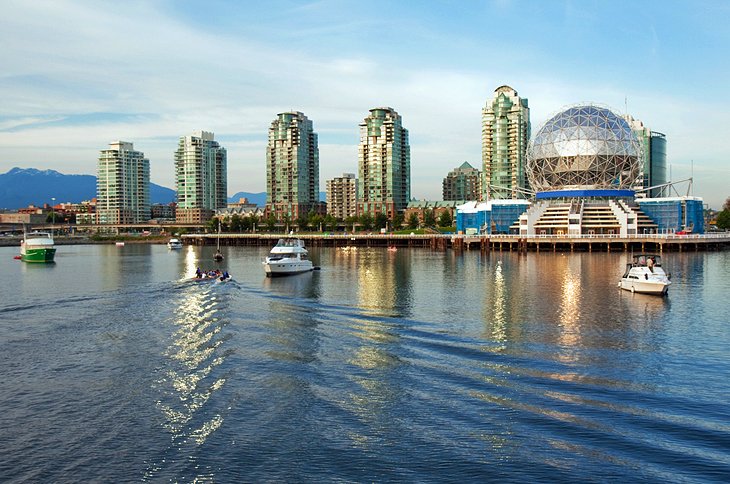 The futuristic sphere-like building of Science World is home to a kid-friendly exploration center that explains phenomena through hands-on exhibits and demonstrations. Themes include water, air, motion, and invention. There is a theater on-site, as well as a massive IMAX screen. Visiting exhibits are often impressive and part of world tours. But back to the building, which is an unmistakable waterfront landmark in Vancouver and was originally built for Expo 86, a World's Fair.
Hours: Open daily 10am-6pm (until 9pm Thursday)
Admission: Adults $25; students, seniors, and youth (13-18) $21; children (3-12) $17.75
Address: 1455 Quebec Street, Vancouver
Official site: www.scienceworld.ca
15. Richmond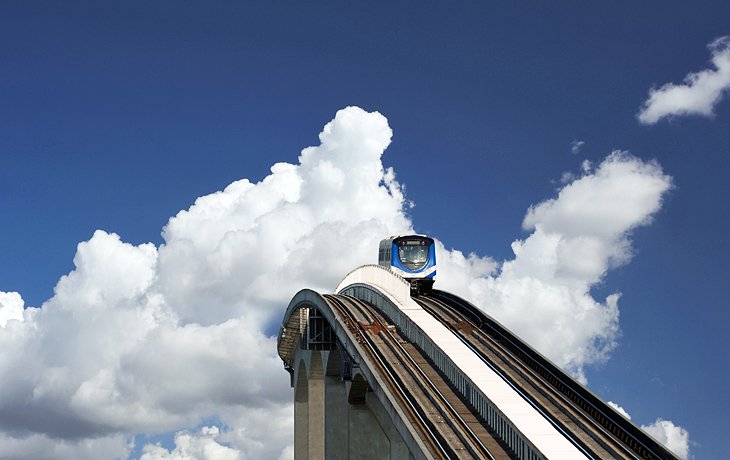 South of Vancouver, Richmond is not a scenic city at first glance. But the airport locale is packed with sightseeing attractions, from a renowned Buddhist temple to the picturesque former fishing village of Steveston (filled with waterfront restaurants and restored old boatsheds). Located in the latter, the Gulf of Georgia Cannery National Historic Site is one of the most historic settings in Richmond, and it relays the history of the West Coast fishing industry. Many also visit Richmond simply to shop due to its large malls with imported Asian goods and vibrant night markets taking place on summer weekends.