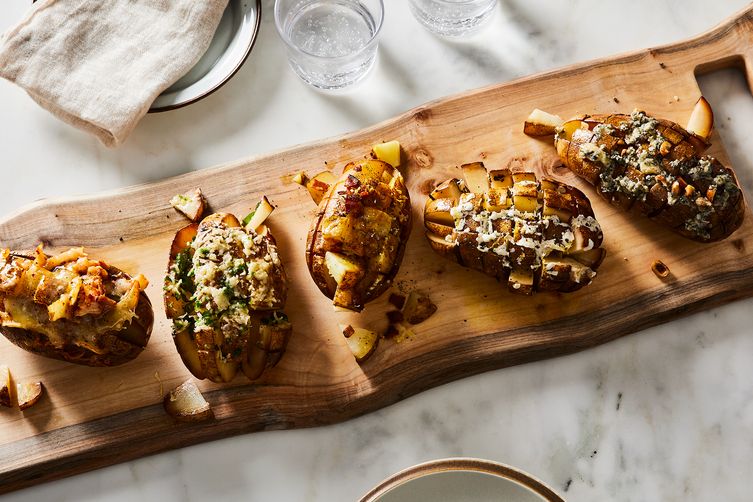 Makes 1
Ingredients:
1 

Russet potato, scrubbed clean and dried

Fillings of choice: Some idea combos include cheddar + kimchi, mozzarella + lemon zest + rosemary, bacon + curry powder + gruyere, blue cheese + hazelnuts, jalapeno + scallion + jack cheese

1 

teaspoon olive oil

Salt and freshly ground pepper
Preparation:
Preheat the oven to 400°F.
Wrap the potato in a paper towel and microwave for 4 minutes, flipping over halfway through. The potato should have a little give; if it doesn't, stick it in the microwave for a minute or two more.
Meanwhile, prepare your fillings. Cheese should be grated, and all other ingredients should be ready for eating—meaning cooked and bite-sized.
Let your taters cool until you can handle them easily. Then, coat the outside of the potato with oil. Using a serrated knife, and starting from one side, use a serrated knife to slice the potato ¾ of the way through, then move a little over and slice again. Then do the same thing the other way.
Then, gently stick the not-cheese toppings into each slit (don't forget the crosswise ones). Then do the same with the cheese (this way, the toppings don't burn and the cheese melts). Season with salt and pepper.
Transfer to a foil or parchment-lined baking sheet and roast until the potato is cooked through and the cheese is melty, 5 to 10 minutes. Eat! With your hands, preferably.