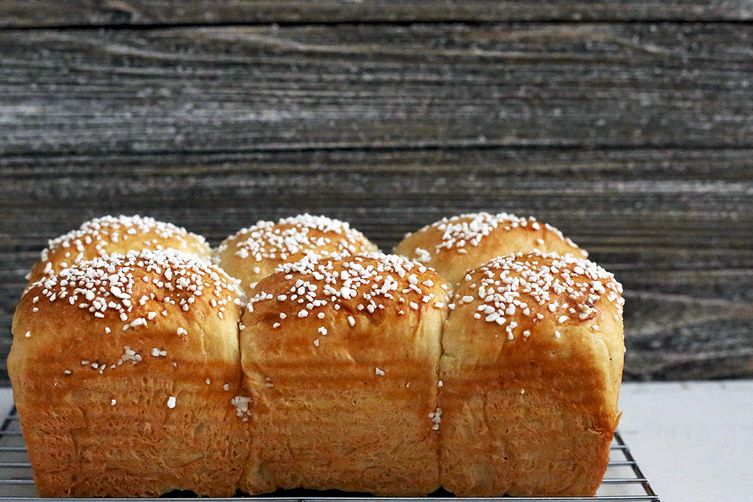 Makes one loaf
Ingredients:
2 3/4 

cups (320 grams) all-purpose flour

1 1/2 

teaspoons instant or active dry yeast

1/4 

cup (56 grams) lukewarm milk

5 

eggs (save one egg for the egg wash)

1 

cup (226 grams) unsalted butter, softened

2 

tablespoons sugar

1/2 

teaspoon salt

1 

tablespoon ground cardamom (or less to taste)

1/4 

cup Swedish pearl sugar, for sprinkling
Preparation:
Add all the ingredients, except for 1 of the eggs (reserving it to use for the egg wash) and the pearl sugar, and mix in the bowl of a stand mixer until satiny and smooth. This will take at least 10 minutes of mixing and kneading as the dough is quite sticky and rich, so don't despair! Keep at it until the dough comes together nicely.
Transfer the dough to a large, lightly oiled bowl and cover with plastic wrap. Refrigerate overnight (or for at least 4 hours).
When ready to bake, lightly grease a standard (9″) loaf pan.
Remove the dough from the refrigerator and divide it into 6 equal pieces. Roll each piece into a ball and place them in the pan, placing each ball slightly offset from each other.
Cover the pan loosely with plastic wrap and let rise for an hour, or until puffy and the dough rises to the top of the pan. Just before you're ready to bake, preheat the oven to 350° F.
Beat the reserved egg with a tablespoon of water and lightly brush the egg wash over the surface of your dough. Sprinkle liberally with the pearl sugar.
Bake the bread for about 30 minutes, or until golden brown on the top. Remove from the oven and let cool for at least 10 minutes in the pan before turning out onto a wire rack to cool.