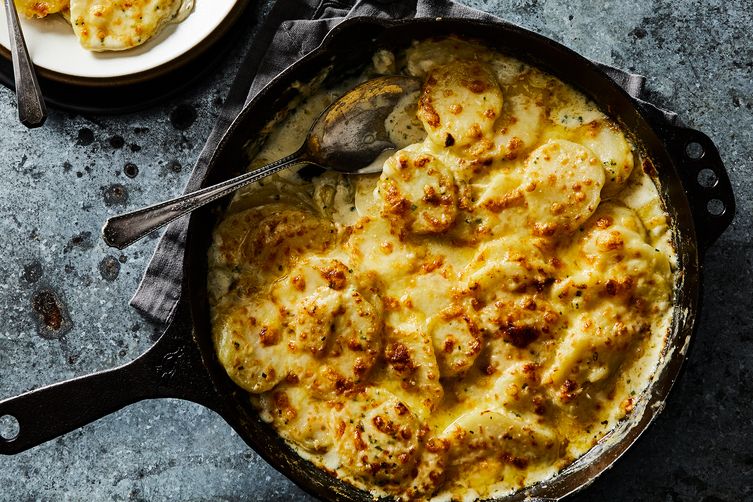 Serves 4 to 6
Ingredients:
3 

pounds white potatoes, peeled and thinly sliced ⅛-inch thick

2 ½ 

cups light whipping cream

Kosher salt and freshly ground black pepper, to taste

1 ½ 

cups grated aged white cheddar (about 6 ounces), divided

3 

tablespoons finely chopped chives

¼ 

cups finely grated parmesan
Preparation:
Heat oven to 425°F.
Combine potatoes, whipping cream, salt to taste, and a few grinds of pepper in a large ovenproof skillet over medium-high heat. Bring to a boil and reduce heat to a simmer. Cook, swirling pan occasionally, until cream is slightly reduced and potatoes are just tender when pierced with a knife, 10 to 12 minutes. Fold in 1 cup of cheddar and the chives and season to taste with salt and pepper.
Cover the top of the gratin with the remaining cheddar and the parmesan. Bake until the edges are bubbly and the topping is golden, about 20 minutes. Let sit for 10 minutes before serving.