When my cousin and I were younger, we used to dream of one day meeting two boy cousins who we would fall in love with and marry in a joint wedding. Then the four of us would move in together and live our lives as one big happy family until the end of time. Unfortunately, as time went on, we forced ourselves to let go of this dream. But for two sets of identical twins, our childhood dream has actually become reality. Brittany and Briana Deane married Josh and Jeremy Salyers in the ultimate dream twin double wedding.
So, to be clear, these people were able to take my childhood dream and multiply it by, like, 5,000. Brittany and Briana Deane (now Salyers) are 32-year-old identical twin sisters who, according to PEOPLE, have always dreamed of marrying identical twin brothers.
One would usually assume a dream that specific would be hard to turn into reality but, in their case, it actually happened.
Just this summer, the twin sisters tied the knot with 32-year-old identical twin brothers, Josh and Jeremy Salyers. As if that wasn't twintastic enough, PEOPLE reports their ceremony took place at the 2018 Twins Day Festival in Twinsburg, Ohio… where the two sets of twins met a year ago. Is it just me or is the word "twin" starting to sound funny?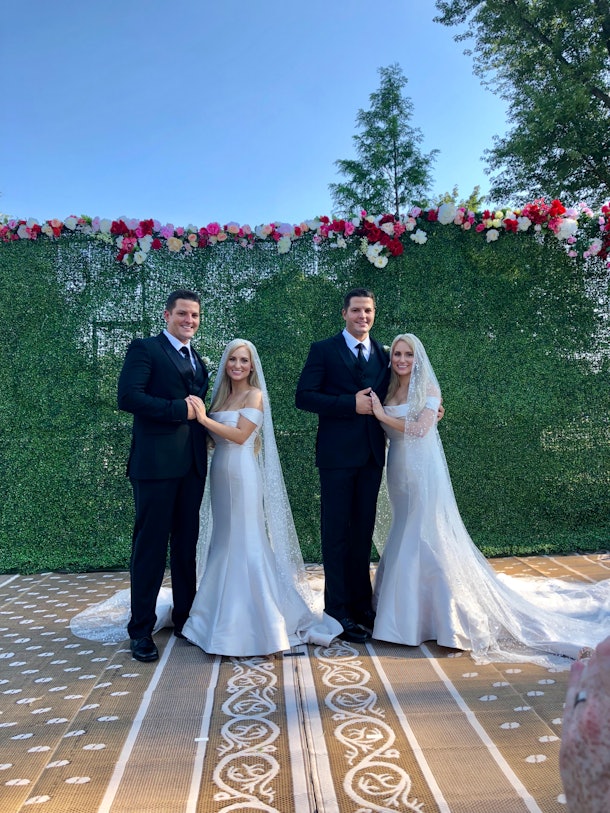 Oh, and how could I forget the theme of the wedding? Just when you thought it couldn't get any more twinny, the couples decided to name their wedding theme "Twice Upon a Time." Briana, who married Jeremy, described the wedding to PEOPLE as a "double fairy tale."
The brides, who consider themselves "two halves of a whole," had no issue planning the joint wedding, according to PEOPLE. "We had the same vision of what our double wedding day would look like," says Brittany. "We work well together and I would say the hardest part is planning everything across state lines because none of us live in Twinsburg, Ohio." PEOPLE reports the brides are from Virginia, while the grooms are from Maryland.