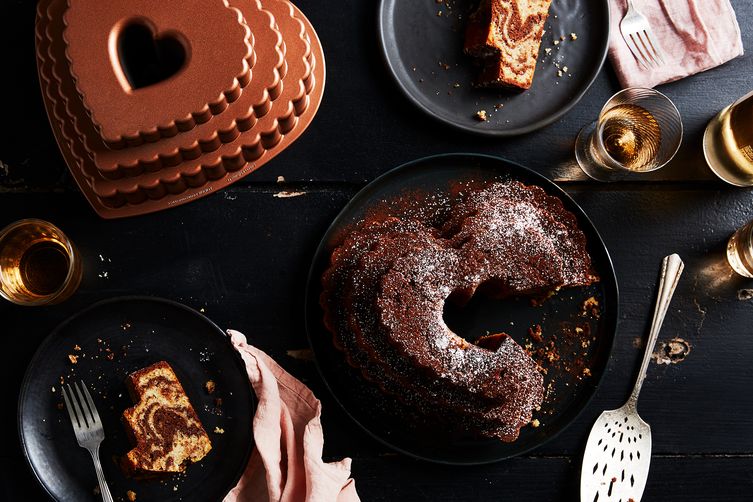 Serves 12
Ingredients:
2 1/4 

cups all-purpose flour

1/2 

cup finely ground walnuts

1 

teaspoon baking powder

1 

teaspoon salt

2 

sticks plus 2 tablespoons (9 ounces) unsalted butter, at room temperature

3 

ounces bittersweet chocolate, coarsely chopped

1/4 

cup coffee, hot or cold

1 

teaspoon finely ground instant coffee or instant espresso powder

1 3/4 

cups sugar

4 

large eggs

2 

teaspoons pure vanilla extract

1 

cup whole milk, at room temperature
Preparation:
Center a rack in the oven and preheat the oven to 350° F. Butter a 9- to 10-inch (12-cup) Bundt pan, dust the inside with flour and tap out the excess. (If you've got a silicone Bundt pan, there's no need to butter or flour it.) Don't place the pan on a baking sheet—you want the oven's heat to circulate through the Bundt's inner tube.
Whisk together the flour, ground walnuts, baking powder, and salt.
Set a heatproof bowl over a saucepan of gently simmering water. Put 2 tablespoons of the butter, cut into 4 pieces, into the bowl, along with the chocolate, coffee, and instant coffee. Heat the mixture, stirring often, until the butter and chocolate are melted and everything is smooth and creamy—keep the heat low so that the butter and chocolate don't separate. Remove the bowl from the heat.
Working with a stand mixer, preferably with a paddle attachment, or with a hand mixer in a large bowl, beat the remaining 2 sticks butter and the sugar at medium speed for about 3 minutes—you'll have a thick paste; this won't be light and fluffy. Beat in the eggs one by one, beating well after each addition. The mixture should look smooth and satiny. Beat in the vanilla extract. Reduce the mixer speed to low and add the dry ingredients and the milk alternately, adding the dry mixture in 3 portions and the milk in 2 (begin and end with the dry ingredients).
Scrape a little less than half the batter into the bowl with the melted chocolate and, using a rubber spatula, stir to blend thoroughly.
Bake for 65 to 70 minutes, or until a thin knife inserted deep into the center of the cake comes out clean. Transfer the Bundt pan to a rack and let cool for 10 minutes before unmolding, then cool the cake completely on the rack.